The Mayor of Nijmegen, Mr H.M.F. Bruls, made a telephone call this morning. He was ringing to pass on some fantastic news to Ad Hermus on behalf of King Willem-Alexander of the Netherlands: namely, that Ad had been appointed an Officer in the Order of Oranje Nassau. This is a splendid mark of appreciation for all the work that Ad has done in both the medical sector and for scientific research specifically for people with rare endocrine disorders while he was working at Radboud University Medical Center in Nijmegen. And for the Dutch BijnierNET (AdrenalNET), this is the third such honour in a row!
Ad Hermus, who has meanwhile retired from his post as professor of internal medicine, chose to specialize in endocrinology back in the 1980's. His interest had been piqued when he met patients with specific hormonal disorders for which there was no regular treatment available. Endocrinology had gained another champion of better healthcare for people who suffered from rare disorders. With results!
"It is thanks to Ad Hermus' confidence in the staff of BijnierNET (AdrenalNET) that so much could be achieved. Thanks – in no small way – to his willingness during the past five years to make himself available for advice, regardless of date or time, it has been possible to achieve and maintain the high quality of AdrenalNET and ensure the availability of many unique, innovative and clear informational products for adrenal patients."
(A quote from the letter in support of the nomination, dated 24 July 2019)
Ad Hermus was one of the initiators of the BijnierNET Foundation at the end of 2014. This is a Foundation in which physicians, nurses, patients and informal carers work together to make improvements in healthcare. The landmark achievement up to now was the Quality of Care Standard for Adrenal Disorders, which was registered with the Dutch National Health Care Institute (Zorginstituut) in 2018. That standard forms the basis for the work done by BijnierNET. The aim is to make it possible for people with an adrenal disorder to be treated in the best possible way and as close to home as possible, by providing support to not only the patients but also to physicians and specialist nursing staff. If that proves impractical, complex healthcare should be provided further away from home by one of the expertise centres for adrenal and pituitary care. Ad Hermus coordinated the Transparency Project, which was carried out in collaboration with a number of academic associations and aimed to provide insight into the number of adrenal and pituitary operations carried out in the various specialist centres.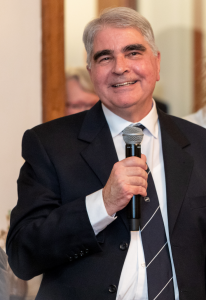 Under Ad's leadership, and armed with the Quality Standard, good progress was made towards establishing a high quality and continuous medication process. One notable achievement for the benefit of people with a rare adrenal disorder came with the availability of hydrocortisone tablets coated in varying colours to indicate dosage levels. This landmark was realized thanks to Ad's perseverance in a complex market place and his conviction that the best results in healthcare can only be achieved in collaborations with other disciplines.
When Ad Hermus gave his retirement speech on 6 December 2019, he shared his vision about good and responsible healthcare for people with rare disorders very coherently. BijnierNET has built on that vision and achieved some excellent results. The fact that there is widespread appreciation for those results is evident from the fact that Ad has become the third member of BijnierNET's founding team to receive a Royal honour. Three in a row!
For further information please contact Johan Beun, BijnierNET Coordinator, by phone on +31 (0) 651 340 516 or by email at info@bijniernet.nl