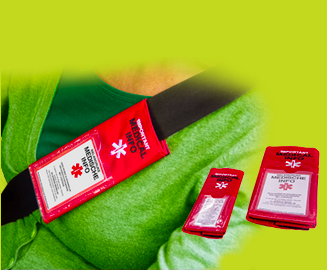 The correct data
Always at hand.
Patients can keep their medical records in the seat belt cover while travelling.
In an Addison crisis blood pressure lowers, nausea occurs, awareness decreases and clear thinking and acting is difficult or impossible.
Without timely intervention, the patient loses consciousness; in the worst case, the patient may even die.
To ensure that caregivers know what is wrong and how to act when a car accident happens, it is sensible to carry the emergency card visibly with you.
Also download the pdf which helps you to print your data so that they fit into the case.
The seat belt cover is suitable for the European Emergency Card.
Buy the seat belt cover from your national patient organization – or order it below on the Dutch website NVACP: The case together cost € 14.00 (for members of the NVACP) or 19.00 (non-members) including postage.
PDF form that you can print to the correct size: