An emergency card like the European Emergency Card (=EEC) can save your life in unexpected stress situations if you have one to show to the healthcare professionals. It contains the important medical information you need. Please explain you need daily cortisone tablets as therapy.
So download the right card in your language and show the card visibly to let medical emergency professionals know how to save your life.
We have two versions:
---
Emergency cards for adults
English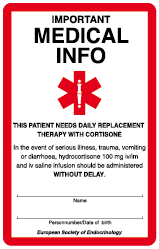 Print the file and place it in your wallet, phone or card holder. Wear it visibly!
International
The non-english-language cards for adults can be stored behind your European emergency card.
---
Emergency cards for children: The pediatric emergency cards
Why is there a pediatric edition of the International Emergency Card?
Some children suffer from an Adrenal Disease from birth onwards. That is called AGS (in Dutch) or CAH (in English). For these children with CAH it is of utmost importance they are well educated and well equiped to be prepaired for a so-called Adrenal crisis. Read the basic information on CAH »
One of the precausions is to have an emergency kit and received training for an emergency injection with hydrocortison (solu cortef).
It is also possible that some children already on a very early age develop Adrenal Insufficiency. This is even more rare than CAH. For them the card and the emergency kit is just as important.
For more information consult our infographics.
English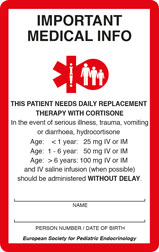 This children version contains the preferred dosis hydrocortisone per age group.
Print the file and place it in your wallet, phone or card holder. Wear it visibly!
Download the English version for children »  
International
The non-english-language cards for children can be stored behind your European emergency card.
Download the pediatric version in other languages for free »
---
Not in your language?
For about twenty countries we have been able to make a credit-card seize emergency card in plastic. Maybe it is already available in your country. Please consult your medical specialist (endocrinologist) to see if there is already a printed edition of the European Emergency Card for your country.
If you cannot find the right emergency card amongst these sets, it is because your country or language has not yet been included. Please express your interest. Maybe you can help us or we can arrange a translation.
---
Endorsed by ECAS
These cards were endorsed by the meeting of the European Council of Affiliated Societies, ECAS, in Paris, October 31, 2014.  The participating countries agreed to have ESE (European Society of Endocrinology) endorse a uniform "emergency card" for patients suffering from adrenal insufficiency, and to make this standard card available for patients in all our countries. The card has an English text on one side and text in another language on the other.
Prior to 2014, some countries had already implemented European emergency cards. They are slightly different but made to fit the same template.
The European emergency cards are also handed out to their patients by several hospitals.
The EEC ( European Emergency Card) – is a pan-European SOS card. It is intended for
people with adrenal insufficiency who are therefore dependent on hydrocortisone. The patient writes their name and date of birth on the card so that this information is quickly available to any medical practitioner.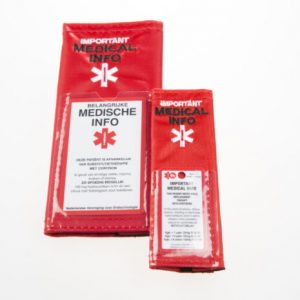 The idea is that the emergency card should be 'worn' in a visible way, attached to a seat belt or the strap of a shoulder bag for example. The card can be inserted into a protective holder (as shown).
The EEC card is available in several languages. The card bears an English-language text on one side and the same text in the patient's own language on the other. In principle, similar plastic cards in credit card format are available for (nearly) all EU countries. Some countries have not yet produced the cards in this form, but attending physicians and patients can find a PDF version of the text online. The PDF can be downloaded and printed out at home. There are no costs involved.
More and more often, medical specialists (e.g. endocrinologists) are providing their patients with an European Emergency Card. By preference, this should be done during the lessons about the stress instructions and the emergency injection.
For further information you should get in touch with your own medical specialist or endocrinologist.
---
Emergency card – background
The card was initially developed by endocrinologists in Sweden, and the idea was endorsed at the meeting of the European Council of Affiliated Societies (ECAS) in Paris on 31 October 2014.
The participating countries agreed that the European Society of Endocrinology (ESE) would approve a standardized emergency card for patients with adrenal insufficiency and make it available to patients in the EU and the United Kingdom.
At the request of the ESE, BijnierNET / AdrenalNET takes care of management and maintenance of the card.
Further information in various languages can be found online at www.adrenals.eu or mail us at INFO@adrenals.eu