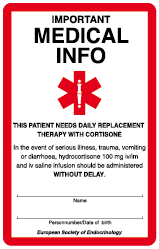 Download the European Emergency Card » (pdf)
Wear the card visibly to let medical emergency professionals know how to save your life.
Other languages can be downloaded. The non-english-language cards can be used at the backside of your European emergency card. If you do not find the right emergency card amongst these sets, it is because your nationality or language has not yet been included. Please email us. Maybe we can arrange a translation.
Download the other languages for free »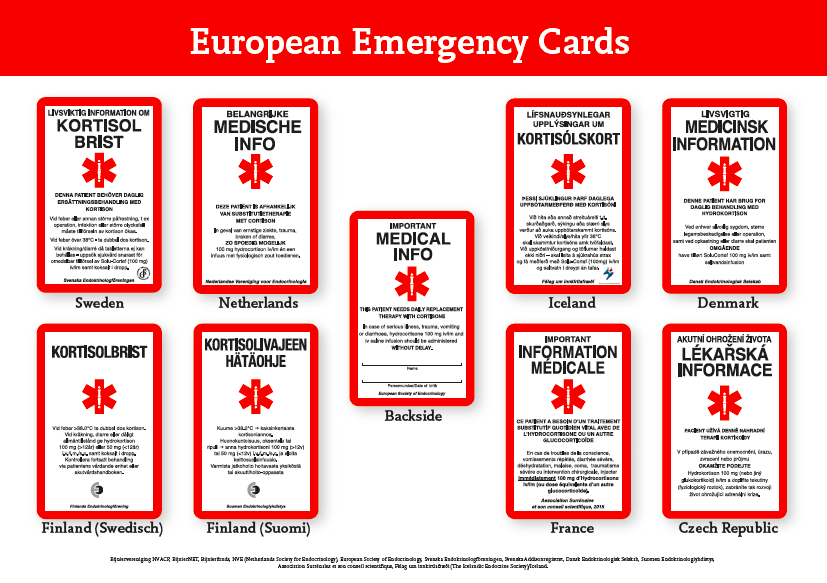 These cards are endorsed by the meeting of the European Council of Affiliated Societies, ECAS, in Paris, October 31, 2014.  The participating countries agreed to have ESE (European Society of Endocrinology) endorse a uniform "emergency card" for patients suffering from adrenal insufficiency, and to make this standard card available for patients in all our countries. The card has an English text on one side and text in the national language on the other.
Prior to 2014, some countries had already implemented European emergency cards. They are slightly different but made over the same template.
The European emergency cards are also handed out to their patients by the hospitals.