During the Medical Conference held on Saturday 25 June 2016, the Dutch Adrenal Society NVACP [Bijniervereniging] honoured two members – Alida Noordzij and Johan G. Beun – by granting them honorary membership.
Johan Beun was answering a wide variety of questions from participants at the Conference. He was on form, and was explaining about all the new products that AdrenalNET [BijnierNET] has developed in collaboration with the national patient association (the Dutch Adrenal Society NVACP), in an effort to improve the care provided to adrenal patients. Thon Westerbeke, Chairman of the NVACP, interrupted the questions, took over the microphone and asked everyone to be quiet for a moment. The time had come to ask Alida Noordzij to join Johan Beun on the stage.
Thon Westerbeke praised the unstinting work they had both done on behalf of the NVACP over the years. They both work with incredible passion to achieve improvements in the care for adrenal patients. As a mark of their appreciation, the Board of the patient association has made them both honorary members. The honour was accompanied by gift tokens and bouquets.
Alida
Special place in the adrenal patient family
Has accrued wide experiential knowledge
Way ahead of her time
Knows the membership
Always has time for a chat
Extensive healthcare-based network
Membership administration
Exceptional Angel [Zeldzame Engel] Award 2016
Johan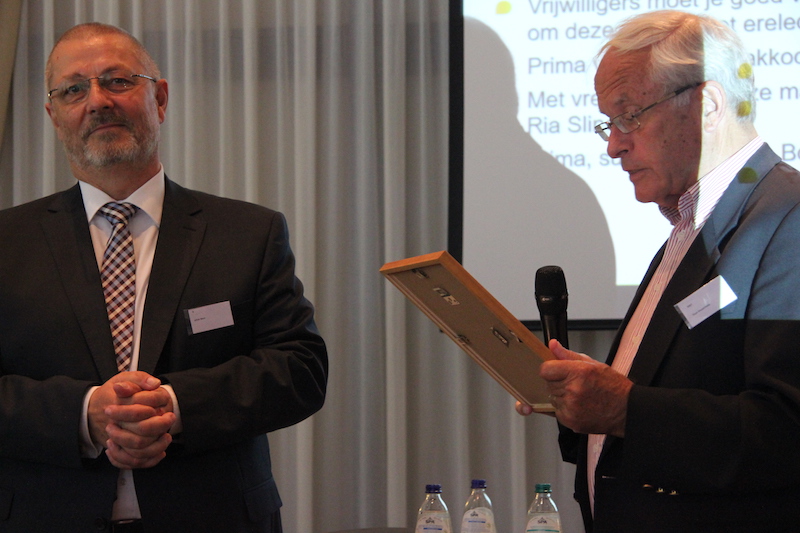 Enterprising and resourceful
Knowledge and expertise in the domain of adrenal disorders
Large network in and outside healthcare
Knows how to get people together
International perspective
Passionate and convincing
No mountain is too high to climb
Alida, who was awarded the Exceptional Angel Award earlier this year, thanked everyone for their praise and kind words. She also took the opportunity to point out that any association can only function properly when as many members as possible actively take part. "We all have to roll our sleeves up!"

Alida thanks the Board and the members of the Dutch Adrenal Society NVACP for this token of their appreciation